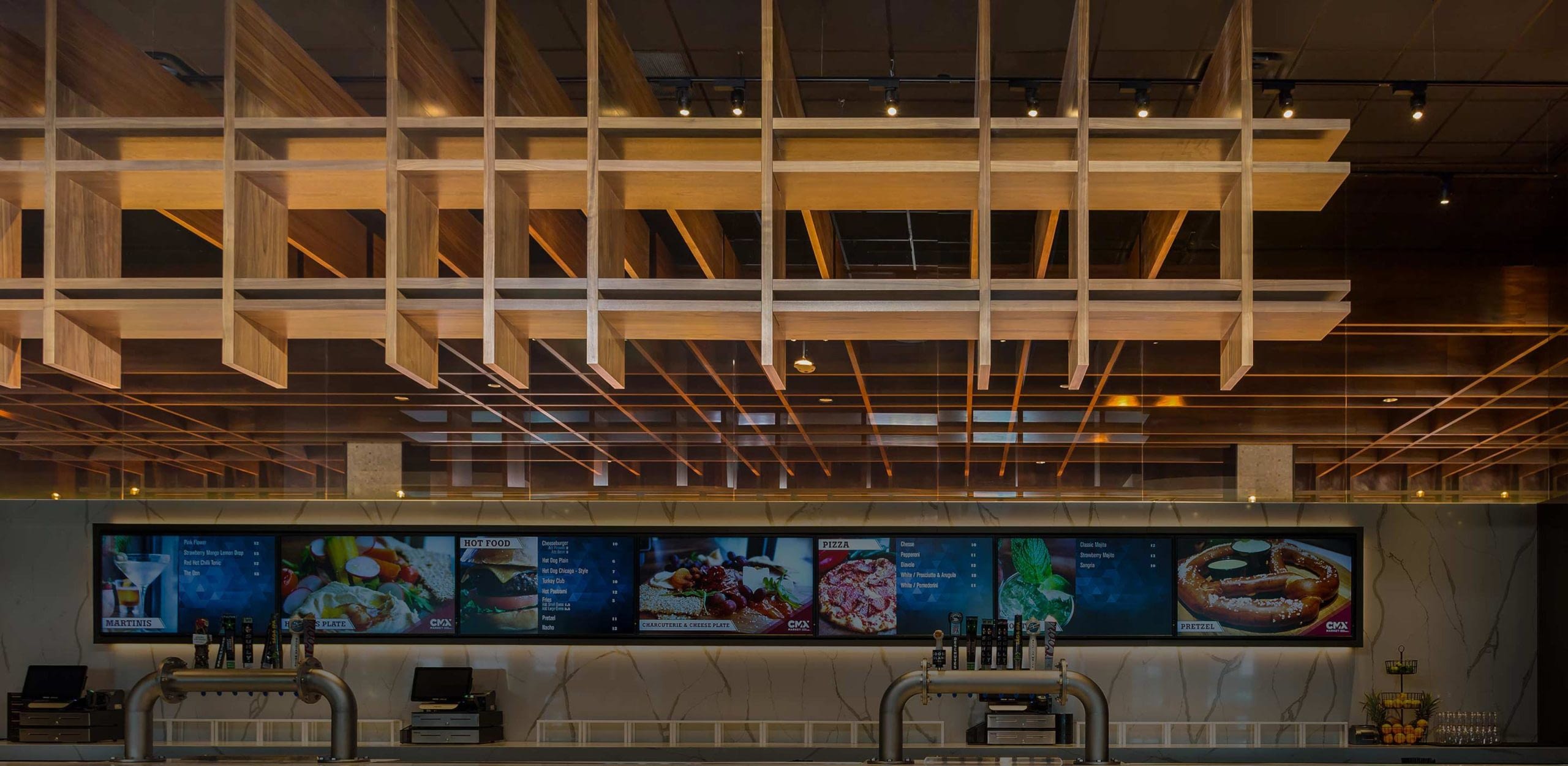 CMX CINEMAS MARKET

//

MALL OF AMERICA, MN
Entirely New.


Measurably Better.
Introducing Cella—the world's most sound absorbent acoustic baffles. More than incremental, Cella baffles' revolutionary, patented technology provides exponentially better sound absorption than any other acoustic baffles.
The hard surfaces of traditional baffles are useful for redirecting and restraining (aka, "baffling") the flow of sound energy, but they're quite poor at absorbing sound energy. Even baffles that claim to absorb sound —such as felt, fabric and foam— are surprisingly ineffective, demonstrating notorious discrepancies between their performance in laboratory tests and their performance in actual, real-world installations. Cella Acoustic Baffles provide such excellent performance; just one side of a Cella baffle is more sound absorbent than an entire felt, foam, or metal acoustic baffle.
The clean, natural aesthetics of Cella Baffles belie their highly engineered, entirely unique construction.
Entirely New.


Measurably Better.

Within the crowded field of acoustic ceiling panels, Alta Panels stand apart. No other acoustic ceiling panel comes close to matching Alta's list of best-in-class features.

Acoustically, Alta Panels absorb and block more sound energy than any other acoustic ceiling panels. Even more exceptional— unlike other acoustic ceiling panels, Alta Panel's acoustic performance is achieved without requiring a plenum space, a blanket of acoustic insulation, or the use of laboratory testing "tricks" designed to artificially inflate the acoustic test results.
Structurally, Alta panels have the highest specific strength, the lowest expansion/contraction, and the best long-term stability of any comparable acoustic ceiling panel. This translates into easier & more adaptable installations, tighter & more precise spacing between panels, and greater flexibility in panel sizes (up to 5'x12′).
Visually, Alta panels offer the industry's most comprehensive selection of options including hundreds of genuine wood species/cuts, the full color spectrum of paints, and even high-resolution UV-printed images. Alta panels can be cut into custom shapes and even formed into rigid, internally supported curves.
You may think it's strange how unique Alta Acoustic Ceiling Panels are, and you wouldn't be wrong. Alta's exceptional properties do present one drawback worth noting— for ceiling panel projects requiring an equally-suitable alternate to Alta panels, there simply isn't one. When you combine all of Alta's features, you'll realize that these acoustic ceiling panels aren't just "best in class", they're "only in class".


Cella Acoustic Baffles'


Unique Advantages.


MicroPerfection® Technology
A groundbreaking method of sound absorption that increases effectiveness as noise levels rise.
Patented SPCore™ Technology
The reason why Cella Acoustic Baffles are remarkably stronger, more stable, and weigh significantly less than traditional wood baffles.
Cella Baffles are the
industry's most sound absorbent acoustic baffles. They provide measurably better performance
than fabric, foam, felt, metal or
fiber-based baffles.
Cella Acoustic Baffles are the only baffles with a guarantee to perform as well in real-world installations as they do in their laboratory tests.
Easy & Versatile Installation
Cella Baffles can be mounted directly to a ceiling, suspended with cables, or attached to a grid.
CELLA BAFFLES
INSTALLATION OPTIONS
Strut Channel

using

Lag Screws
A simple secure system designed for attaching Cella Baffles to standard strut channels. The system instals quickly and allows for complete flexibility with baffle spacing.
Cable Suspension

using

Adjustable Coupler
The light weight and high strength of Cella Acoustic Baffles allows for a variety of direct suspension methods that are inconspicuous, simple to install, and easy to adjust.
CELLA BAFFLES
CORE OPTIONS
ITEM
DESCRIPTION
STANDARD HEIGHTS
(nominal)
STANDARD LENGTHS
(nominal)
NRC
(per side)
FIRE
CLASS
LR PANEL SERIES

Excellent Acoustic Performance • Lower Price Point vs. RF Series • Antimicrobial & Moisture Resistant Properties

BA-LRL38
1 1/2″ Thick Acoustic Baffles

6″

8″

12″

24″

48″

96″

120″

144″

.70
A
BA-LRL51
2″ Thick Acoustic Baffles

6″

8″

12″

24″

48″

96″

120″

144″

.80
A
RF PANEL SERIES

Superior Acoustic Performance • CDPH1350 Compliant (low VOC)

BA-RFR38
1 1/2″ Thick Acoustic Baffles

6″

8″

12″

24″

48″

96″

120″

144″

.70
A
BA-RFR51
2″ Thick Acoustic Baffles

6″

8″

12″

24″

48″

96″

120″

144″

.90
A
Custom baffle heights and lengths available. * 144" length subject to veneer availability.
CELLA BAFFLES
SPECIFICATIONS
Acoustic Ceiling Baffles constructed of two fully sealed, resonant cavities overlayed with 2mm thick micro-perforated multi-ply surfaces.
Clear or Tinted Catalyzed Lacquer
Clear or Tinted Ulti-Matte™ Flat Varnish
Hanging kits to be ordered separately.
BA-LRL51 (2" thick LR Series) 3.2 lbs/ft² BA-RFR38 (1½" thick RF Series) 2.5 lbs/ft² BA-RFR51 (2" thick RF Series) 3.2 lbs/ft²
Cella Baffles contain a non-combustible fiberglass core. A thin (less than .025 inches) layer of veneer, paint, or film finish is applied. Depending on the use and the type of wood selected, Cella Baffles can be used in Class A environments (IBC Chapter 8. Section 803).
LR RFMRc4 Recycled Content
LR Series – 21% pre-consumer
RF Series – 30% post-consumer
LR RFBDCv4 EQ Acoustic Performance
LR RFEQ 4.4 Low Emitting Materials
LR RFMaterial Ingredient Disclosure – Option 1