LenaBrava-3600
SONOS FLAGSHIP RETAIL STORE // NEW YORK, NY
Discover what make SoundPly the best looking wood acoustic panels.
ABSORB SOUND.
REFLECT BEAUTY.
Architects and designers regularly encounter difficulties with incorporating acoustic solutions into an environment without disrupting the space's intended appearance.
Acoustic materials have become synonymous with a trade-off in clean aesthetics, with any increase in acoustic performance requiring greater visual concessions.
Even in spaces designed with excellent acoustic foresight, the acoustic materials often appear as an afterthought, or as an obvious auditory band-aid that's visually inconsistent with the rest of the environment's design.
SoundPly Solves This Problem.
Developed under the belief that acoustic solutions should be heard and not seen, the highly adaptable, unobtrusive appearance of SoundPly acoustic panels, planks, baffles, and beams disrupt the long-standing assumption that effective acoustic solutions require a visual compromise.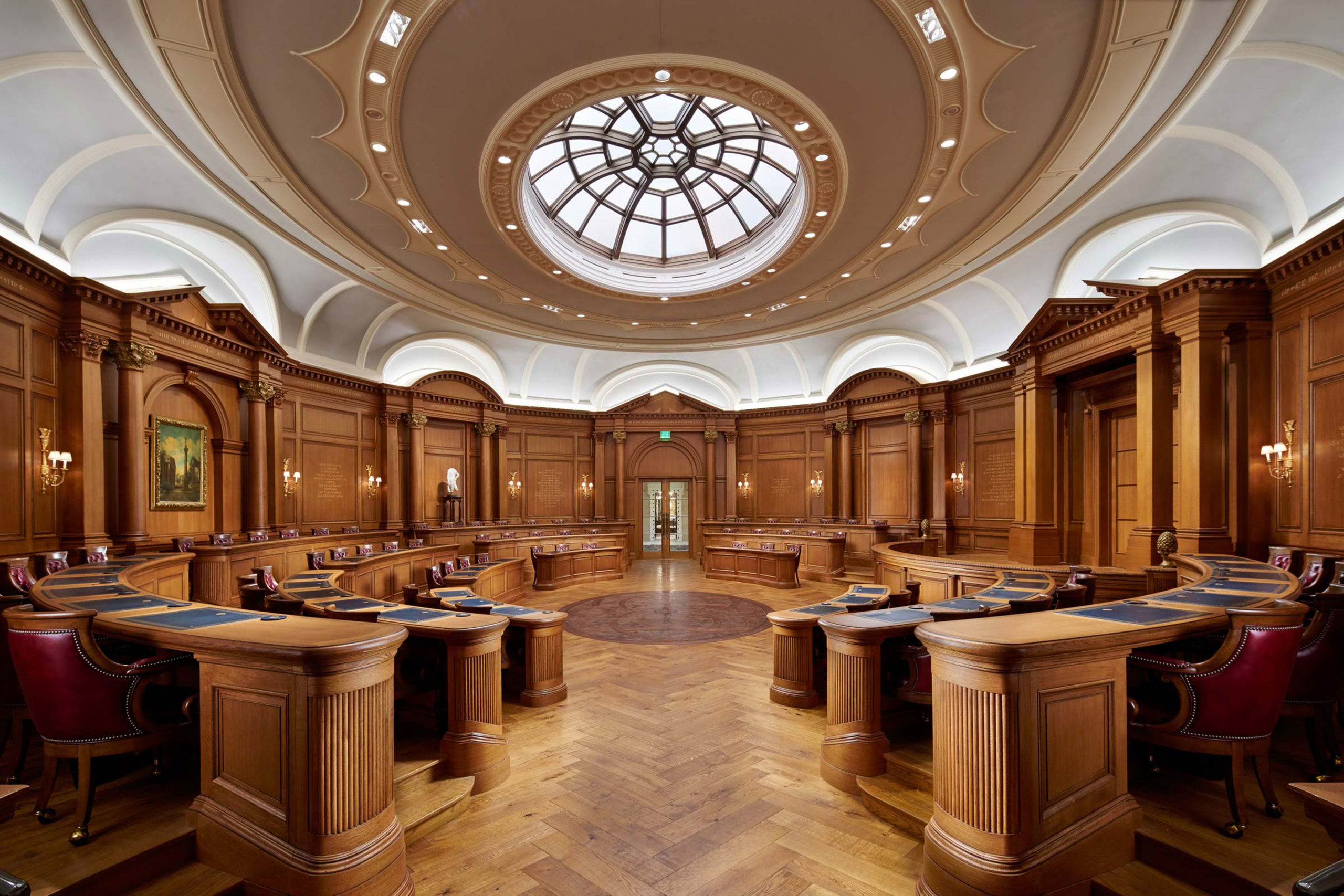 REMARKABLY
UNREMARKABLE.
No other acoustic material disguises their acoustic function as effectively as SoundPly panels. At just a few feet's distance, the millions of tiny micro-perforations across the panels' surface become visually imperceptible.
Unlike the grooved, slotted, or perforated acoustic panels produced by other manufacturers, SoundPly's clean, microscopic perforations produce no discernible effect on a panel's overall color or grain structure.
Unheard-Of Possibilities.
For the first time, a truly seamless integration of acoustic and non-acoustic materials is possible. SoundPly's unmatched degree of visual inconspicuousness unlocks possibilities for entirely new, non-traditional methods to incorporate studio-grade acoustic performance into any environment.
Hover over this image to see a close-up of SoundPly's micro-perforations.
…or one of our other 715 wood species/slice/grade choices.
With over 3 million square feet of domestic and exotic veneers in inventory, there is no shortage of wood options. When combining those wood choices with the numerous finish and paint possibilities provided by an in-house finishing department, the options are seemingly infinite.
SoundPly panels are the only acoustic panels that can be blueprint-matched with non-acoustic panels while providing no compromise to the visual or acoustic properties of the panels.
BluePrintWall-3.2
ACOUSTIC PANELS + NON-ACOUSTIC PANELS
BluePrintWall-4.2
ACOUSTIC PANELS + NON-ACOUSTIC PANELS + FIRE RATED DOORS & FRAMES =
BluePrintWall-5.2
THE INDUSTRY'S MOST COMPREHENSIVE
LEVEL OF ARCHITECTURAL BLUEPRINT MATCHING.
IF THESE WALLS COULD TALK,
YOU PROBABLY WOULDN'T HEAR THEM.
It's difficult to improve the view from the observatory atop One World Trade Center, but it was accomplished by introducing an impressive measure of acoustic control in the form of SoundPly acoustic panels featuring sequence-matched, real wood veneers.
A combination of SoundPly panels and non-acoustic panels was seamlessly blended throughout One World Observatory's 3 floors, allowing a strategic placement of acoustic panels for maximum effectiveness.
Make a statement without making a sound. SoundPly panels allow for unprecedented artistic control by offering thousands of surface options and a seemingly infinite number of shape and form possibilities.
SoundPly panels' unique structural properties allow for shapes and molds that simply aren't achievable with other architectural panel materials.